The slower paced (but not necessarily "lazy" as the saying goes) days of summer have given me some time to tackle a few projects around the house. I am sure to most of you this post might be a little boring, but if you like cheap, easy and cute organizational projects you are going to love this one!
Ever since we moved in our house eight years ago, the girls have had a playroom in our finished basement. When we moved in it was HIDEOUS!!! It had dark green carpet, white walls, and terrible lighting. My very handy husband put in hardwood (laminate) floors, beadboard, new lighting, and then he painted it a sunny yellow color. Over the years as they have gotten older, they haven't used the playroom as much, so I decided to take it over for my own crafty space. Now that Carter is here, we are going to share the space. I've been working HARD, along with my mom's help, to make this space functional and cute for all of us. Since I make hair accessories, I have an extensive stash of stuff , so I need many storage containers. Of course, I want them to be functional and cute, as well as inexpensive. As I sat there looking at all of the supplies I have, I came up with this cute idea:
I already had the metal buckets (purchased from the Dollar Spot at Target awhile back), the yo-yos, and some magnets in my craft stash. I decided to use magnets and just hand write the tags, since I am not 100% sure where I want to keep everything yet, so I can change these tags easily.
To make these, I simply glued two yo-yos together using hot glue, then glued them on a small magnet, made the tags, and stuck them to the buckets. It took all of ten minutes for the whole thing to come together.
I wish I had more of these little buckets now! I love how these turned out. My perfectionistic side REALLY wanted to type up little tags, but when I realized how insane that was, I just hand wrote them. It's hard being a perfectionist, I tell you.
While I was organizing, I was rolling up some pretty lace I have, and look what happened as I rolled it:
Isn't it beautiful?!?!?
While I am at it, I have to share this cute little sign. This was in Emily's ladybug-themed nursery, and I just love the sentiment on it! I am a VERY lucky girl, that is for sure. I decided to keep it in my craft area - such sweet memories.
Now that I am getting an organized space to work in, I've been creating a few things to start selling again. I have sold hair accessories for many years, but took some time off to have Carter. When I found out I was having a boy, I sort of lost the desire to create hair accessories, but lately I've really missed it, and honestly need the income it provided our family. Some day soon, I am going to share a few of my creations from when I used to make the elaborate stacked, layered bows. It's fun to look back on those and remember how much fun I had making them!
Here is a sneak peek of a few things you might find in my Etsy shop when it opens =)
I will be selling traditional hair bows, hair flowers, headbands, clips, and maybe even some home decor and birthday party-related items! I am very excited to be back in the world of creating. It gives me such pleasure to make pretty things.
On a final note - look what is out of the box now - EEK!!!
It only took me six months to take it out of the box, but now that it's out, I have no excuses! I even have a little table set up in my craft/play room just for my sewing machine. I will be sharing the whole room when it is completed, which should be sometime this week. I am doing it on pretty much a zero budget, so it will be fun to share when it's complete!
Sharing here: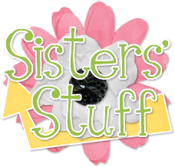 Lil Luna